Consistency Key to Positive Future
Tuesday 27 February 2018
More than nine out of 10 young people leaving Inverclyde Council schools are consistently going into employment, education or training.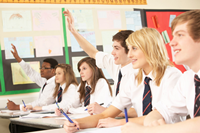 The latest figures from Skills Development Scotland (SDS) also show that once again Inverclyde has no 'unknowns' which it has achieved for the past eight years.
That means all school leavers will continue to be tracked and provided with further support, whatever they are doing.
Education & Communities Convener Councillor Jim Clocherty said: "Once again these are very positive figures about positive destinations for our young people leaving school.
"In a sense most other authorities have been playing catch-up to our consistent performance of providing the best opportunities and choices for our children and young people in our schools.
"While last year's figure of 93% may be slightly below the Scottish average, when you consider all of the social and economic issues we have to challenge we have always set the bar high and consistently maintained those high standards."
The figures from SDS show in 2016/17 nearly half (44%) went into higher education, 27% further education and nearly one in five (18%) employment,
Councillor Clocherty added: "We are a relatively small local authority and only a relatively few individuals can represent a significant statistical difference. But what these figures consistently show is that the vast majority of our young people are making positive decisions about their lives and equipping themselves well for the future. For the few who remain outside the 'positive destinations' the important thing is we know who and where they are, and are here to help when needed."
Page last updated: 27 February 2018