It's Good to Talk – Clyde Conversations
Monday 26 February 2018
Mental health and drugs and alcohol are the top two topics concerning young people in Inverclyde.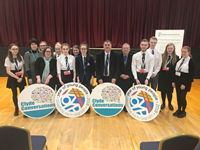 They came top of a survey of pupils at Inverclyde Council's six secondary schools as part of the third annual Clyde Conversations project.
It allows young people to come together to discuss issues affecting them and take part in specialist-run workshops on the topics they have chosen.
Council Leader Councillor Stephen McCabe said: "It is so important that we listen and take on board the views and opinions of our young people – they are our future after all. Clyde Conversations is an opportunity for them to discuss their concerns and to suggest changes or improvements to services to better meet the needs of young people in Inverclyde."
Over 120 young people came together at Port Glasgow Town Hall for the third annual Clyde Conversations event to talk and take part in a series of workshops.
Young people were able to discuss what changes or improvements they believe could be put in place and to allow partners – from Inverclyde Council's Community Learning & Development team, Safer & Inclusive Communities, Police Scotland, Skills Development Scotland, Inverclyde Health & Social Care Partnership, Integrated Alcohol Services and Your Voice – to discuss the concerns of young people.
For the first time a follow-up event will be held later in the year to invite back all of the workshop leaders to let the young people know about any changes that have been made from their suggestions.
Photograph: Young people with Councillor Lynne Quinn, Councillor Elizabeth Robertson, Councillor Stephen McCabe and Councillor Ronnie Ahlfeld.
Page last updated: 26 February 2018