New Memorial to World War One Heroes
Friday 2 February 2018
Inverclyde Council has created a new memorial to a group of Port Glasgow men killed in the First World War.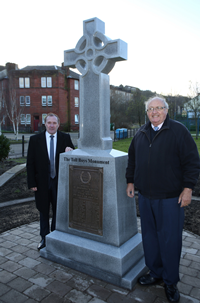 The original bronze plaque bearing the names of the 29 Toll Boys is to be moved from the wall of the building at 5 Glasgow Road - where the old Toll House stood - to allow for the regeneration of the local area.
Environment & Regeneration Convener Councillor Michael McCormick said: "I am delighted the new memorial has been completed in plenty of time to mark the centenary of the end of World War One. So many lives were lost, not just here in Port Glasgow and Inverclyde, that we owe it to the sacrifice and selflessness of all who served to pay our respects in the best way we can."
Depute Provost Councillor David Wilson said: "Every year the Toll Boys feature prominently in our local Remembrance Day programme and we want to continue with that tradition whilst of course honouring their memory and sacrifice. The Council has come up with a sympathetic design which creates a new local focal point for the town and serves as a lasting and fitting tribute to the Toll Boys."
The Toll Boys were all local unemployed men who spent their days repairing furniture at the Toll House to help others in the local community.
Ronald Wilson is Chair of the Kindred Clubs of Port Glasgow who asked for Council support for the new memorial. He said "It is fitting that we honour the memory of not only these young lads, but also those local men and women who have laid down their lives in subsequent conflicts."
A re-dedication ceremony for the monument will be held later this year.
Page last updated: 2 February 2018