Switched on to Savings in Inverclyde
Inverclyde Council has agreed a £715,000 project to replace its remaining 3,000 street lights with LED lanterns, cutting its electricity bill by more than half.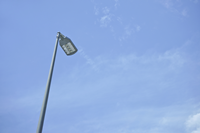 The Environment & Regeneration Committee was told this will amount to an annual saving of £75,000 a year including reduced maintenance costs.

Convener Councillor Michael McCormick said: "This really is an example of spend to save when you consider the fact these new lights require around half of the power consumption of the older non-white lanterns.

"They will also last a great deal longer – up to 25 years – and coupled with the associated reduced servicing and maintenance requirements will deliver a significant saving in the long term."

Unlike traditional lamps commonly used in street lighting LED's come on with full brightness instantly and will restart immediately following a brief power failure or other fault.

Councillor McCormick added: "The new lights are different and may require some getting used to. However we have had generally positive feedback and they do represent the latest in technology concentrating light on the road and footpath areas, reducing light pollution.