Celebrating 70 years of the NHS in Inverclyde
Friday 6 July 2018
Inverclyde's new £7.3million adult and older people's continuing care centre was the venue for the area's official event marking the NHS at 70.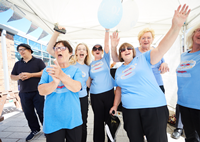 Hosted by Inverclyde Mental Health Services the garden party at Orchard View in Greenock was aimed at celebrating the advances in care and treatments over the years and to thank staff and partners for the care provided to local communities.
Inverclyde Council's Health & Social Care Convener Councillor Robert Moran said: "Orchard View opened last year and is an example of the continued investment by the NHS and ourselves to improve services to our most vulnerable citizens.
"The Health & Social Care Partnership – which includes all of our GP's and other health professionals working together – will continue to work hard to ensure we have services fit for the future.
"Inverclyde continues to face many health challenges and we will continue to build on our successes to meet those needs."
The garden party was attended by HSCP and NHS staff locally and current service users and their families within the inpatient service for mental health.
Orchard View is located in the ground of Inverclyde Royal Hospital grounds providing adult and older people's continuing care mental health accommodation with a particular focus on delivering a dementia friendly environment.
There are 42 beds in total with 30 dedicated to continuing care for older people.
John Brown CBE, chairman of NHS Greater Glasgow and Clyde, said: "Orchard View provides patients and staff with a first class, purpose-built healthcare facility.
"It is a contemporary unit that provides high quality accommodation for adults and older people within Inverclyde who require continuing mental health care.
"This facility is the embodiment of how working together, staff, service users and carers were all involved in the design of the building and we were able to build a unit that meets the needs of people living in Inverclyde."
The National Health Service was created on 5 July 1948.
In its first year, 15 million prescriptions were dispensed in Scotland - today, the figure is over 103 million.
In 1948 1.2 million people were seen as outpatients – in 2016/17, there were around 4.25 million outpatient attendances
In 1948 NHS Scotland employed 22,062 nurses and midwives – today, this has risen to over 59,000
(Source: Scottish Government)
Page last updated: 6 July 2018