Extension to Lady Octavia Car Park now Complete
Friday 27 July 2018
A project to deliver additional parking and tackle traffic congestion in a Greenock street has been completed.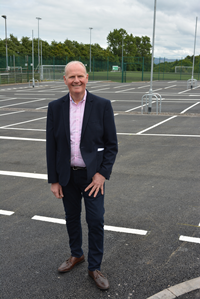 Inverclyde Council has extended the car park at Lady Octavia sports centre and created a new access from Bridgend Road.
The new £220,000 car park has 82 spaces and spaces for two motorbikes.
Environment & Regeneration Convener Councillor Michael McCormick said: "The new car park will make a big difference to local residents and people using the centre.
"Visitors will no longer have to park some distance away taking up spaces on surrounding streets causing issues for the people who live there.
"I would particularly like to thank residents of Bridgend Road and Castle Road for their patience and understanding. We have listened to their concerns and produced a workable solution."
Page last updated: 26 July 2018