Rising up to the Reading Challenge at Inverclyde Council Libraries
Wednesday 25 July 2018
Hundreds of children are turning pages as part of the Tesco Bank Summer Reading Challenge Scotland at Inverclyde Council's libraries.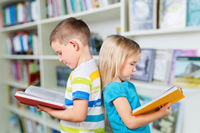 Last year a record 1,300 took part, reading at least six books over the summer holidays. The year's theme is 'Mischief Makers' inspired by the 80th anniversary of the iconic children's coming the Beano.
Education & Communities Convener Councillor Jim Clocherty said: "This is all about encouraging children to stick with their reading over the summer.
"Inevitably there can be something of a dip but this is a fun way to keep young ones interested and engaged.
"It is also helps children to become familiar with their local library and encourages a lifelong love of reading."
The Tesco Bank Summer Reading Challenge Scotland is the UK's biggest annual reading promotion for ages 4 to 11 although all children can take part.
Councillor Clocherty added: "The books can be about anything – fact, fiction, jokes and pictures. Already 800 children have signed up and nearly 100 of them have completed their summer reading challenge."
To take part in the Summer Reading Challenge children need to have their own library membership, Every child involved is given a Beanotown map, Mischief Makers bookmark and wristband.
All children who complete the Challenge will be invited to an Awards Ceremony in September, where they will be presented with their Gold Medal.
Children who are unable to attend the Awards Ceremony will be able to collect their medal at their local library after the Awards Ceremony takes place.
Other summer events being organised by Inverclyde Council's libraries::
Silly Summer Stories at Central Library, Greenock, every Monday until 13 August. 1pm-2pm. Ron & Fergus of Macastory will share silly stories guaranteed to get everyone of all ages giggling.
Crafternoons: Every day between 2pm to 3.30pm until 10th August. Free crafting events
Mondays - Kilmacolm Library and Greenock Central Library
Tuesday - Greenock South West Library
Thursday - Port Glasgow Library
Friday - Gourock Library and Inverkip & Wemyss Bay Library
Page last updated: 25 July 2018