Sports Club Funding Approved
Friday 6 July 2018
Sports groups across Inverclyde have been awarded over £145,000 from the Council's new grants system for under 19's.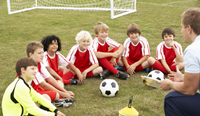 The money has been allocated in the same way as the successful Grants to Voluntary Organisations fund.
Grants Sub Committee Chair Councillor Graeme Brooks said: "The new system replaces the old pitch waiver scheme which allocated funding according to the number of young people at each club.
"That meant that when core budgets were reduced the clubs received proportionately less money.
"Clubs can now apply for up to £15,000 which was the largest award made under the old system and it allows them to budget accordingly."
A total £145,867.00 has been allocated to 22 clubs across Inverclyde.
Councillor Brooks added: "We are fortunate to have so many clubs and excellent leisure and sports facilities in Inverclyde. It is vital that we encourage as many children and young people as possible to participate in a wide range of activities to enjoy all of the health and social benefits that brings and develops a positive 'can-do' culture."
The purpose of the Under 19's Sport Grant Fund is to support groups with the ongoing running costs of their club whilst they provide sporting activities.
Page last updated: 6 July 2018