First look at new learning centre
Tuesday 26 June 2018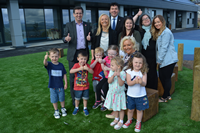 Youngsters from an Inverclyde Council nursery have had a sneak peek at their new £3.4million home.
The new 100 pupil Glenpark Early Learning Centre has been built on part of the former Greenock Academy site to replace the current 'west end' facility at Kelly Street Nursery and St Mary's Primary.
All three playrooms in the new Glenpark Early Learning Centre – two accommodating 40 children and one accommodating 20 – have views out over the River Clyde.
Outside teaching and play areas have also been created including a wooden story-telling chair.
Education & Communities Convener Councillor Jim Clocherty said: "It has been a long journey for the west end of Greenock and I am absolutely delighted the new centre is ready to welcome staff and children.
"I know parents and carers are excited at the prospect of such a modern and well-thought out building at the heart of their community.
"Their children will have the best start to their learning journey in those all-important early years before school."
It is the latest project in Inverclyde Council's £270 million schools estate programme.
The £5million refurbishment of Moorfoot Primary in Gourock has just been completed. Lady Alice Primary's £3.8million refurbishment is close to completion along with the new £9.2million St Ninian's Primary in Gourock.
Page last updated: 26 June 2018