'Space Age' School Set for Transformation
Friday 8 June 2018
An Inverclyde Council school renowned for its unusual 'flying saucer' design is to be transformed with a £1.7million extension.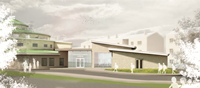 A planning application has been lodged for the project at Gourock Primary to build an additional dining/activity hall, kitchen and reception and entrance area.
Head Teacher Patricia Robertson said: "Pupils and staff are so excited that we will soon have a separate dining hall which will provide more space and opportunities for lunchtime clubs and after-school activities.
"The plans have already been shared with pupils – one of the pupil council members said that it looks cool.
"All of the children are so excited but unfortunately the P7 pupils are quite sad as they won't be here to use it.
"Staff and the parent council have also seen the plans which will be made available to all parents later this month. This is great news for pupils, staff and parents that the long-awaited extension to the school is now a step closer to becoming a reality."
The project is the latest in Inverclyde Council's ambitious £270million investment in its school estate that will see every child in a new or refurbished building by 2020.
Gourock Primary was completed and opened in 1999 with a unique circular design likened to a flying saucer.
Inverclyde Council's Education & Communities Convener Councillor Jim Clocherty said that has presented its own challenges: "The design team literally had to fit a square peg onto a round hole but I think they have come up with a fantastic proposal to link the original building with the new extension.
"They have deliberately resisted the temptation to follow the curves of the existing building to provide regular spaces that will benefit the current – and importantly – future demands of the school."
Moving the kitchen to the new extension will allow all of the classrooms to be linked to the existing circular corridor.
A new medium size classroom will also be created together with new toilets, storage space and a new car park with two extra parking spaces.
Councillor Clocherty added: "This is a clever solution and one I am sure will benefit children in Gourock for many years to come.
"Our school estate programme is without a doubt one of the most ambitious in the whole of the UK and I am delighted we have reached another milestone as we continue to deliver learning environments that are second-to-none for the vast majority of our children and young people."
The £5million refurbishment of Moorfoot Primary in Gourock has just been completed. Lady Alice Primary's £3.8million refurbishment is close to completion along with the new £9.2million St Ninian's Primary in Gourock and £3.4million Glenpark Early Learning Centre in Greenock.
Work is due to start on the £6million refurbishment and extension of St Mary's Primary.
Page last updated: 8 June 2018