Young Inverclyde Entrepreneurs Need You
Monday 4 June 2018
A group of entrepreneurs at an Inverclyde school are asking for help to be named Young Enterprise Scotland Company of the Year.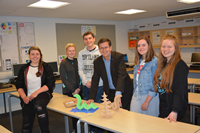 St Columba's High School's Young Enterprise Team 'Let's Do a Jig' is among 17 finalists vying for the title at the national finals in Glasgow.
One section of the competition – which includes awards for innovation, creativity and best presentation – is the Peroosh People's Choice Award.
Team member Rachel Robertson said: "The number of votes we get from the public will really help towards our overall success at the finals.
"It is really simple to vote. Click 'more info', then click 'cast your vote'. You only need to contribute your email address to make sure the vote is one per person."
'Let's Do A Jig' are creating and selling 3D jigsaws inspired by their local and national culture of Inverclyde and Scotland.
They include a Loch Ness Monster and a Cross of Lorraine following on from a seasonal Christmas tree – a best seller.
Education & Communities Convener Councillor Jim Clocherty said: "This is a great way for our young people to develop and reach their full potential by gaining invaluable business knowledge, entrepreneurial skills and ultimately making themselves more attractive to potential employers.
"It is a huge credit to everyone involved with the team at St Columba's that they have been shortlisted and I would urge people to register their support and vote."
Voting for the award closes at 3pm on Wednesday 6 June. You can vote for the St Columba's team by following the link on this page.:
The winner of the overall Young Enterprise Scotland Company of the Year 2018 will take part in the UK final in London in July.
Photograph: (L to R) Caitlin Garner (18), Rachel Mearns (17), Darren Boyd (18), Councillor Clocherty, Megan Smith (17) and Anna Dunsmuir (18)
Not pictured: Rachel Robertson (18), Maja Donachie (17) and Arianna Moretti (17).
Page last updated: 4 June 2018