Gourock Highland Games Chieftain Revealed
Thursday 22 March 2018
A teenage high school pupil from Greenock has been named as Chieftain for the 2018 Gourock Highland Games.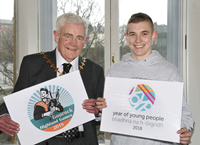 Rhys McCole – who attends Notre Dame High – will preside over the 62nd annual games in Battery Park on Sunday 13 May.
The 16 year old is a champion boxer and also a member of the SportScotland and Young Scot's Young People's Sports Panel and an Ambassador for Inverclyde for the Year of Young People 2018.
Provost Martin Brennan said: "All of these are significant achievements in themselves – but are even more remarkable given that Rhys lives with not one, but six disabilities.
"His drive, ambition and determination to succeed make him a wonderful choice for Chieftain in this Year of Young People and a perfect example to all of what can be achieved despite the difficulties life can present.
The Games in May are just one opportunity for us to celebrate our young people and there has been a lot of work – by young people themselves – to come up with a programme of events and activities to showcase their talents and opinions."
Rhys said: "I want to say thank you to all the people who have made this possible. It is a great privilege and something I will cherish forever.
"I am greatly honoured and looking forward to a great day, hopefully with good weather. It is a great opportunity to promote the young people of Inverclyde and the Year of Young People."
Gourock Highland Games hold a unique position in Scotland marking the start of the Scottish Highland Games season.
Alongside the pipe band competitions the event includes traditional highland games, heavyweight events, the West of Scotland Highland Dance Championships and mini highland games involving local school children.
Fairground rides, children's activities and a wide range of food and community stalls add to the entertainment for people of all ages.
The Games are open to the public free of charge from mid-day on Sunday 13 May 2018 culminating in the Chieftain's March Past at approximately 5.30pm.
Gourock Highland Games is organised by Inverclyde Council and supported by River Clyde Homes, Inverclyde Active Schools, Gourock Community Sports Hub and Taste of Inverclyde.
The piping competitions at Gourock Highland Games are run under the auspices of the Royal Scottish Pipe Band Association (RSPBA).
For details of sponsorship packages at Gourock Highland Games, email events@inverclyde.gov.uk or phone 01475 712032
Year of Young People 2018 is led by the Scottish Government, working in collaboration with – among others - VisitScotland, EventScotland, Young Scot, Children in Scotland, Scottish Youth Parliament, Creative Scotland and YouthLink Scotland.
Page last updated: 22 March 2018