Spot hole call after snow
Wednesday 7 March 2018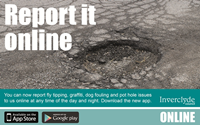 Inverclyde Council bosses are asking residents to be on the lookout for potholes and road damage after the recent severe winter weather.
For, after last week's cold weather and heavy snow and ice, they reckon many more potholes will start to appear as the thaw starts.
The council's environment and regeneration convener, Councillor Michael McCormick, said: "We all remember the lessons in school, even if that was a while ago. Water gets into rock, forms ice, ice expands and breaks the rock. The same principle is true of our roads. There is no doubt that the snow and ice will have taken a toll. It is also worth remembering that ploughs aren't precision tools. They can, while clearing routes, break up parts of the road network.
"That's why we are calling on drivers, pedestrians and other road users to travel carefully as the snow and ice thaw. There will be more potholes and damage on roads right across the country. Also, when you spot any damage to our roads, make sure you let us know about it and report it through the usual ways.
"You can even download our mobile app and let us know the exact location of the pothole using your smartphone. That way our roads team can start to get out and fix the damage caused by the severe winter weather.
"I'd like to take the time to thank the roads team. They have been out in all weathers running the service 24/7 to help to keep Inverclyde clear. Some nights driving through blizzard conditions, it must have felt like a losing battle, but they have worked hard to keep Inverclyde moving. The next part of their job is about to begin as they start to repair the damage caused by the snow and ice.
In Inverclyde we have enough roads to travel from Greenock to Gretna and back. We can't be everywhere at once, so please be our eyes and get in touch to let us know about the damage you have seen and where it is."
Residents can report roads damage by completing the online form in the 'report a fault' page on the council website.
The council's app for mobile phones 'Inverclyde Online' can be downloaded and faults can be reported. Using the camera and GPS on your phone, you can let the council know the exact location and send a photograph of the pot hole.
You can contact the council's customer service centre on 01475 717171 during office hours and out of office hours, contact 0800 373635.

Inverclyde Council have no contractual responsibilities for the following trunk roads:
A8 from Inverclyde boundary at Port Glasgow to Bullring Roundabout, Greenock.
A78 from Inverclyde boundary at Wemyss Bay to Bullring Roundabout, Greenock.
These routes are the responsibility of the Scottish Government's agency Transport Scotland who have contracted with Scotland Transerv for the management and maintenance of these trunk roads.
To report road defects such as potholes, flooding, faulty street lights or damage to a road structure, they can be contacted on 0800 028 1414 or online at www.scotlandtranserv.co.uk
Page last updated: 7 March 2018