£23m savings and counting
Friday 25 May 2018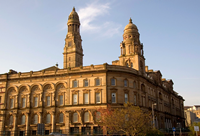 That's the highlighted figure in the formal return to the Scottish Government which is co-ordinated by local government umbrella organisation COSLA, the Convention of Scottish Local Authorities.
All Scottish councils are required to make an annual return setting out the efficiencies achieved.
The return from Inverclyde Council, which must be formally signed by the council Chief Executive Aubrey Fawcett, highlights savings in the past year of £1.467m
In all, Inverclyde Council has, over the past 12 years delivered over £19.5 million of recurring efficiency savings. And, with plans to deliver nearly £2m more by 2019, the council is set to deliver nearly £23m in total.
Inverclyde Council Leader, Councillor Stephen McCabe, said: "The scale of savings achieved by this council through efficiencies is staggering. As budgets are reduced and limitations placed on councils, it is important that we continue to achieve savings where we can. To achieve nearly £23m over 12 years shows the scale of work going on behind the scenes to, as much as possible, minimise savings and cuts to frontline services."
Page last updated: 25 May 2018