Games get Scottish season underway with treble and 10,000 plus attendance
Wednesday 16 May 2018
Lucas Venta, the Polish-born athlete, scooped the top prize in the Gourock Highland Games events for the third year in a row.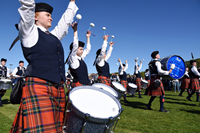 Lucas has now won the top prize in all three events since the competition moved to its new permanent home at Battery Park.
In the piping competition, Inveraray and District Pipe Band picked up first place in the grade one competition. This is only the second time the Gourock Highland Games has hosted grade one bands, the highest level of piping.
The Gourock Highland Games, held on Sunday 13 May, traditionally start the Scottish Highland Games and piping season in Scotland.
And, the event is estimated to have had over 10,000 visitors attend to enjoy pipe band competitions, traditional Highland games, Highland dance competitions, and a range of sporting activities across the day.
The Chieftain for the games, which have been in existence for 62 years, was 17 year old Rhys McCole. Rhys is a champion boxer and an ambassador for the year of young people 2018.
Rhys said: "I would like to thank the many thousands of people who attended the Gourock Highland Games. As the youngest Chieftain in the history of the Games, I am honoured to have been chosen.
"It is the year of young people in 2018 and the Gourock Highland Games celebrates young people as a partner event. I hope it inspired visitors to use this year as a chance to support a young person to achieve their best and to recognise that achievement.
"An event of the scale of the Gourock Highland Games does not happen by chance. There is a great deal of planning to make everything go smoothly. I would like to thank the RSPBA who have once again delivered a piping and drum major spectacular.
"Alan Pettigrew tirelessly delivers the Highland Games element of the day and does so much to keep the spectators entertained throughout the day.
"Behind the Highland Dance competition is May Hughes and her family. May's tireless energy is an inspiration to us all.
"Finally, Inverclyde Council fully funds and manages the Gourock Highland Games from start to finish. They ensure everything goes smoothly and in this wonderful setting are keeping the games as a free entry event to encourage visitors to enjoy this spectacular setting in the banks of the Clyde."
Provost Martin Brennan said: "The Gourock Highland Games is an event which is growing in stature and confidence. It has carved out a unique position in Scotland's piping and games event calendar.
"The weather was glorious and the sights and sounds were spectacular as thousands of visitors joined in the celebrations to mark the start of the Scottish Highland games and piping season for 2018.
"The Gourock Highland Games, and other events, are an ideal opportunity to showcase Inverclyde to a wider audience to promote our area to visitors as part of our tourism and repopulation campaigns.
"Special thanks have to be made to our youngest-ever Chieftain, 17 year old Rhys McCole who performed his role superbly all day. He is a credit to every young person in Inverclyde and the perfect ambassador for us for the Year of Young People 2018."
Gourock Highland Games – heavy events championships 2018
| | | | | | | | | |
| --- | --- | --- | --- | --- | --- | --- | --- | --- |
| Name | Stone | Shott | 28ilb | Kempock Stone | 56lb | Caber | Points total | Place |
| Lucas venta | 6 | 6 | 6 | 4 | 6 | 6 | 34 | 1st |
| Daniel Carlin | 5 | 5 | 4 | 3 | 5 | 4 | 26 | 2nd |
| Stuart Anderson | 3 | 4 | 5 | 5 | 3 | 5 | 25 | 3rd |
| Craig Winslow | 4 | 3 | 3 | 6 | 4 | 1 | 21 | 4th |
| Paul Dearie | 2 | 2 | 2 | 2 | 2 | 3 | 13 | 5th |
| Ernie Weir | 1 | 1 | 1 | 1 | 1 | 2 | 7 | 6th |
Gourock Highland Pipe Band Competition
Contest: Gourock
Date: Sunday 13 May 2018
Contest winners:
Grade 4B Rothesay and District
Grade:4A Lochryan
Grade:Juv Oban High School
Grade:3 Johnstone
Grade:2 Johnstone
Grade:1 Inveraray and District

Grade:4B
Piping Adjudicator 1:P Snaddon QVRM
Piping Adjudicator 2:R Walker
Drumming Adjudicator:S Coils
Ensemble Adjudicator:J Baxter
Band

Actual Grade

Piping 1
Place

Piping 2
Place

Drumming
Place

Ensemble
Place

Total

Final
Position

Rothesay and District

4B

1

1

2

2

6

1

Lower Clyde Pipes and Drums

4B

5

3

1

1

10

2

Dunoon Argyll

4B

2

2

4

8

16

3

Strathendrick

4B

3

4

5

6

18

4

Kilbarchan

4B

6

9

3

4

22

5 EP

Renfrewshire Schools

Nov B

4

6

7

5

22

6

Dumbarton and District

Nov B

8

8

8

3

27

7 EP

Uddingston Strathclyde

4B

7

7

6

7

27

8

1st Troon Boys Brigade

Nov B

9

5

9

9

32

9

Burntisland and District

Nov B

11

11

10

10

42

10 EP

Greyfriars Pipes and Drums

4B

10

10

11

11

42

11
Grade:4A
Piping Adjudicator 1:P Hunt
Piping Adjudicator 2:R Shaw
Drumming Adjudicator:L Innes
Ensemble Adjudicator:R Mathieson
Band

Actual Grade

Piping 1
Place

Piping 2
Place

Drumming
Place

Ensemble
Place

Total

Final
Position

Lochryan

4A

2

2

2

2

8

1 EP

Oban High School

Nov A

1

1

3

3

8

2

Lower Clyde Pipes and Drums

4B

6

4

1

1

12

3

Stirling and District Schools

Nov A

3

3

5

5

16

4

Irvine and District

4A

5

7

6

4

22

5

Kilbarchan

4B

4

5

9

6

24

6 EP

Williamwood

4A

7

6

4

7

24

7

Royal Burgh of Stirling

4A

8

8

7

8

31

8

Kilsyth Thistle

4A

9

9

8

9

35

9
Grade:Juv
Piping Adjudicator 1:P Hunt
Piping Adjudicator 2:R Shaw
Drumming Adjudicator:L Innes
Ensemble Adjudicator:R Mathieson
Band

Actual Grade

Piping 1
Place

Piping 2
Place

Drumming
Place

Ensemble
Place

Total

Final
Position

Oban High School

Juv

1

1

1

1

4

1

Stirling and District Schools

Nov A

2

2

2

2

8

2
Grade:3
Piping Adjudicator 1:P Snaddon QVRM
Piping Adjudicator 2:R Walker
Drumming Adjudicator:S Coils
Ensemble Adjudicator:J Baxter
Band

Actual Grade

Piping 1
Place

Piping 2
Place

Drumming
Place

Ensemble
Place

Total

Final
Position

Johnstone

3B

1

1

3

1

6

1

Uddingston Strathclyde

3A

2

2

1

2

7

2

Greater Manchester Fire and Rescue Service

3B

5

3

2

3

13

3

Lanark and District

3B

4

4

4

4

16

4

Lochryan

4A

3

5

5

5

18

5

Williamwood

4A

6

6

6

7

25

6

Irvine and District

4A

7

7

7

6

27

7

Strathendrick

4B

8

8

8

8

32

8
Grade:2
Piping Adjudicator 1:P Hunt
Piping Adjudicator 2:R Shaw
Drumming Adjudicator:L Innes
Ensemble Adjudicator:R Mathieson
Band

Actual Grade

Piping 1
Place

Piping 2
Place

Drumming
Place

Ensemble
Place

Total

Final
Position

Johnstone

3B

1

1

1

1

4

1

Greater Manchester Fire and Rescue Service

3B

2

2

2

2

8

2
Grade:1
Piping Adjudicator 1:P Snaddon QVRM
Piping Adjudicator 2:R Walker
Drumming Adjudicator:S Coils
Ensemble Adjudicator:J Baxter
Band

Actual Grade

Piping 1
Place

Piping 2
Place

Drumming
Place

Ensemble
Place

Total

Final
Position

Inveraray and District

1

2

1

1

3

7

1

Scottish Power

1

1

2

4

1

8

2

Glasgow Police Pipe Band

1

3

4

2

2

11

3

Johnstone

1

5

3

3

5

16

4

The Glasgow Skye Association

1

4

5

5

4

18

5
Page last updated: 16 May 2018