Inverclyde Launches Trusted Traders
Tuesday 15 May 2018
Rogue traders in Inverclyde are under the spotlight with the launch of a new Trusted Trader scheme.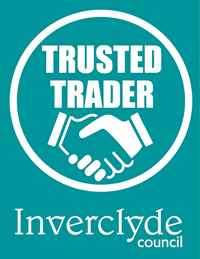 It aims to help members of the public choose a reliable trader who has been vetted by Inverclyde Council's trading standards officers to protect customers from conmen.
Provost Martin Brennan who formally launched the scheme said: "All too often we hear about doorstep criminals and rogue traders targeting local people. They will often leave the job at best unfinished or at worst costing the householder hundreds of thousands of pounds to put right their shoddy workmanship.
"The Trusted Trader scheme will help to protect local people while promoting reputable companies. People will have the confidence to know that all members have been vetted by us and that we have put a process is place to deal with any disputes should something go wrong."
The Trusted Trader scheme uses an online directory of local traders who have made a commitment to treat their customers fairly.
Customers have a role to play by sending in feedback comments and scores to the Trading Standards service. These are then published on the trader's individual page. The trader's customer satisfaction score is the average from all their customer feedback - the more feedback received, he more accurate the satisfaction score.
Education & Communities Convener Councillor Jim Clocherty Councillor said: "Traders will be able to promote themselves as a member of the scheme and will receive expert advice from Trading Standards on how to improve their processes and service to ensure they end up with happy customers.
"We look forward to seeing the scheme grow, local businesses grow and people's confidence in Inverclyde's local traders grow."
Inverclyde Trusted Trader scheme is led by Inverclyde Council's Trading Standards service.
More details can be found by following the link on this page.
Page last updated: 15 May 2018