Inverclyde Rises to the Attainment Challenge
Thursday 24 May 2018
Inverclyde Council's schools are closing the attainment gap and raising standards in reading, writing and numeracy.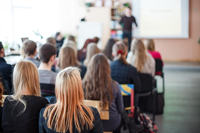 The Scottish Government's interim evaluation of the first two years of the Attainment Scotland Fund shows a strong performance in most areas compared to both the national average and against other Attainment Challenge Authorities.
Education & Communities Convener Councillor Jim Clocherty said: "We are clearly among the best of the Attainment Challenge Authorities with English, writing and numeracy all doing well and there are certainly extremely positive signs.
"We are definitely making a difference in closing the poverty related attainment gap but it is too soon to be able to draw definitive conclusions about the overall impact of the funding. The relationship between poverty and health and wellbeing is complex and there are many factors that can have an influence on attainment.
"Certainly we are moving in the right direction and it is hugely encouraging to think of the improved opportunities our children and young people will be presented with as a result of this work."
Now in its third year, the centrally funded Scottish Government initiative focuses on improving literacy, numeracy and health and wellbeing with the objective of giving all pupils from disadvantaged backgrounds the best start in life.
Inverclyde was one of the initial seven Attainment Challenge local authorities in 2015.
Six Inverclyde primary schools were involved in the first year. In the second year the focus was on nine primary schools and has now been extended to include all six secondary schools and a total of 12 primary schools.
Key components in delivering the aims of the Attainment Challenge are families and communities, meeting learning needs and leadership.
The Attainment Challenge team works with school staff and family support workers to identify children and families who would benefit from targeted interventions, building relationships and providing support.
Councillor Clocherty added: "We are working hard to make this a sustainable process – something that will continue when the funding from the Scottish Government eventually stops – and to build on our successes which have been recognised as examples of best practice."
Page last updated: 24 May 2018