Make a Connection to Foster Care
Monday 14 May 2018
People in Inverclyde are being urged to consider fostering to transform the lives of children and young people.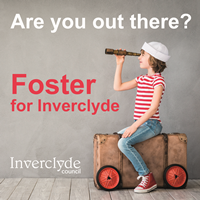 Foster Care Fortnight is underway (Monday 14 May to Sunday 27 May) aiming to raise awareness of the need to recruit more foster carers - with the greatest need being for foster carers for older children, sibling groups and disabled children.
Councillor Robert Moran is Convener of Inverclyde Council's Health & Social Care Committee. He said: "We are asking people if they believe they have the skills to become a foster carer particularly for older children.
"Foster carers can come from all kinds of backgrounds. The only thing that we ask is that they are committed to providing a nurturing and secure home to help children and young people grow and develop.
"Children and young people in care have already had their lives turned upside down through no fault of their own. In Inverclyde some of our older children are faced with the very real prospect of being moved outside an area they have known all of their lives because there are not enough foster placements available locally. We really need people to come forward and let us know they are interested."
A comprehensive package of support is available including 24 hour access to social work staff; allowances to meet the costs of caring for a child; group support from other fosters carers and full training for the job of fostering. The training may equip carers to move into other work in a care setting by giving opportunities for training and development.
Councillor Moran added: "A foster home can provide the stability and support a child needs for a better future and a foster carer can help to transform lives.
"It can be a hard job but foster carers tell us that it can be hugely rewarding and can make a real difference to children's lives – and to yours."
Find out More about Fostering for Inverclyde Council Information morning with tea and coffee Greenock Town Hall, Tuesday 22nd May 2018 10am until Noon
Anyone interested in becoming a foster carer should contact the Fostering Team either by completing the fostering enquiry form available by following the link on tthis page or by calling 01475 715365.
Who can foster?
Single carers
Same sex couples
Carers who work
Carers with children
Older carers
What can you expect if you foster?
• The knowledge that you have contributed to a child's life ,their health, education and social development of a child.
• Being part of a large support group who will offer advice, knowledge and information to help you with the job.
• The support from you own Family Placement social worker.
• The opportunity to increase your fostering skills through high quality training in all aspects of fostering.
• An allowance for each child who is placed with you as well as additional financial assistance to purchase items such as furniture and baby equipment.
• The opportunity to increase your skills through the Payment for Skills scheme.
• The opportunity to work alongside a multi-disciplinary team including social workers, teachers, health visitors etc.
Page last updated: 14 May 2018