New I:DEAS for Money Management
Thursday 10 May 2018
A programme to help nearly 2000 people in Inverclyde better manage their money and avoid debt misery has been launched.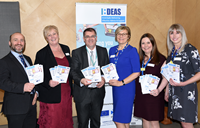 The three-year I:DEAS (Inverclyde Delivery Effective Advice and Support) project aims to increase the financial capacity and improve the social inclusion of the most disadvantaged people and households in Inverclyde.
Council Leader and Welfare and Finance Inclusion Champion Councillor Stephen McCabe said: "When people run into money difficulties they often lose the ability to support themselves, becoming financially and socially excluded.
"This has a knock-on effect for the local economy, local landlords, businesses, the court system, council services, the health service and charities.
"This is why we must respond to the challenge not only to protect the most vulnerable in our community but to protect our community as a whole."
The £2.3million I:DEAS programme is funded jointly by the European Social Fund and Big Lottery Fund Scotland through the Delivering Financial Inclusion programme.
Maureen McGinn, Big Lottery Fund Scotland Chair, said: "I am delighted that the people of Inverclyde will benefit from this funding, thanks in part to money raised by National Lottery players. The I:DEAS service will help people who are facing disadvantage to improve their money management skills and lower their debt burden, which often acts as a barrier to social inclusion."
Inverclyde Council and Inverclyde Health & Social Care Partnership are the lead organisations in the scheme working with a range of local and national partners. They include Barnardo's; CVS Inverclyde; Financial Fitness; River Clyde Homes; Scotcash and the Wise Group together with the Council's Community Learning & Development service and Advice First service.
Councillor McCabe added: "We will work together to improve a person's current situation with their finances and give them the skills to ensure they have the ability and capacity to be able to continue with positive finances through their lives.
A big part of the service is to ensure that those who are socially excluded due to debt will no longer be. We will provide family support if required and are looking for volunteers and peer supporters to carry on with the work."
The Scottish Government is the Managing Authority for the European Structural Funds 2014-20 Programme.
The Big Lottery Fund uses money raised by National Lottery players to help communities achieve their ambitions. From small, local projects to UK-wide initiatives, our funding brings people together to make a difference to their health, wellbeing and environment.
Since June 2004 the Big Lottery Fund has awarded £8.5 billion to projects that improve the lives of millions of people.
Delivering Financial Inclusion will see up to £16.3M in combined ESF and National Lottery funds (£9.5M National Lottery £6.9M from European
Social Fund), used to address issues around financial exclusion and expand individual's financial capacity in five Scottish local authorities supporting at least 19,695 people by February 2020.
Photograph Neil Rob, Helen Watson, Councillor Stephen McCabe, Andrina Hunter, Louise Dickinson, and Gayle McQueen.
Page last updated: 2 July 2018