Youngsters Stay Up to Date on New School's Progress
Monday 14 May 2018
Pupils at an Inverclyde Council primary have been keeping contractors building their new £9million school on their toes.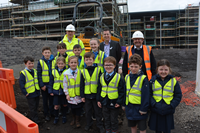 A 'press gang' of children from St Ninian's in Gourock has been carrying out site visits alongside question and answer sessions about the new school in Gourock.
The project is the latest in Inverclyde Council's ambitious £270million investment in its school estate that will see every child in a new or refurbished building by 2020.
Head teacher Lesley McCabe said: "One child from each of our twelve classes was voted on to the press gang and they have passed on questions from their friends for the contractors. Everyone is extremely excited about the process and they have enjoyed reporting back to their classmates through a special assembly and will be sending out a press release to parents and the rest of the school. The contractors have been extremely helpful and we are grateful they have kept everyone at the school up to speed on progress."
Among the questions the children asked were: 'How many solar panels will the school have?'; 'Why do you need so much scaffolding?' and 'Will the canteen have a different menu?'
P6 pupils Sophie McMillan and Emily Cushnaghan said: "It's a wonderful sight to see the new school being built and it's going to be fantastic to learn in"
Rory Hurrell (P6) "It will be great to see a modern school. I am amazed at how quickly it has been built."
Isabella McCafferty (P4) "It was really, really cool. I enjoyed going to the top of the building. It was really windy. I thought I might be blown away!"
The new St Ninian's is being built on the blaes gravel pitches at the current school site and the existing building will be demolished once the work is complete.
It has 13 classrooms, a gym, dining hall, music room and a library over its two stories. Children will be dropped off at a dedicated lay-by with space for three buses and pedestrian access will be from Staffa Street, Drumshantie Road and Kirn Drive.
The project is being delivered by the Council's development partner hub West Scotland who have appointed CCG (Scotland) Ltd as the main contractor. The project has been on site since June 2017.
CCG (Scotland) Ltd has been on site since June 2017 and is delivering the project in partnership with hubWest Scotland.
Education & Communities Convener Councillor Jim Clocherty said: "St Ninian's is celebrating its 50th anniversary on the current site and I am sure the school can look forward to at least another 50 years in its new home.
"Through this project and the current £5million refurbishment of Moorfoot primary we are continuing to show our commitment to education in Gourock and Inverclyde as a whole."
CG Chairman and CEO Alastair Wylie added: "It is great to see the pupils of St Ninian's are interested in the construction of their new school. Who knows, maybe this will peak their interest for a career in construction later in life!"
The £3.8million refurbishment of Lady Alice Primary in Greenock is close to completion.
Children at St Mary's Primary in Greenock are moving to the former Sacred Heart primary while their building undergoes a £6million refurbishment and extension.
The former Sacred Heart primary building is currently the temporary home of Moorfoot Primary.
Photograph:Colin Nelson, project development manager for hub West Scotland, Councillor Jim Clocherty, Convener of Education & Communities, John Jamieson site manager from CCG and pupils from St Ninian's primary.
Page last updated: 14 May 2018