Youth Sports Grants Fund Open for Applications
Thursday 24 May 2018
Sports groups across Inverclyde are being urged to apply for funding from the Council's new grants system for under 19's.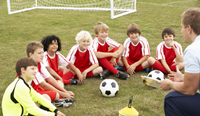 £161,000 has been set aside for youth clubs to be distributed in the same way as the successful Grants to Voluntary Organisations fund.
Committee Chair Councillor Graeme Brooks said: "In the past grants were issued to under-19 groups using a funding formula based on the number of young people at each club.
"As the core budget was reduced the clubs received proportionately less money – around two thirds of previous awards. The new system allows clubs to apply for up to £15,000."
To ensure fairness to all applicants the maximum award that can be made has been set at £15,000 – the largest awards made under the previous system.
Councillor Brooks added: "Sports groups make an important contribution to the quality of life of young people in Inverclyde. It is therefore vital they are given all the financial support that is available to allow them to keep up their good work."
Applications received by 6 June 2018 will be considered by the Grants Sub Committee at the meeting scheduled for end of June.
The purpose of the Under 19's Sport Grant Fund is to support groups with the ongoing running costs of their club whilst they provide sporting activities.
Guidance notes and registration/application forms are available to download from the Council's website www.inverclyde.gov.uk , from Safer Communities, The James Watt Building, 105 Dalrymple Street, Greenock, PA15 1HU, by emailing safer.communities@inverclyde.gov.uk or by calling 01475 714298.
Page last updated: 24 May 2018