CCTV Upgrade Underway
Thursday 22 November 2018
Inverclyde Council is carrying out a major £200,000 upgrade of its aging CCTV network.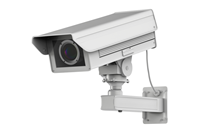 New 4G cameras are being installed to replace the system that has played a crucial part in local efforts to cut crime.
Environment & Regeneration Convener Councillor Michael McCormick said: "The current system – because of its age – is expensive to run and difficult to maintain.
"There is no doubting its value in terms of preventing crime and assisting police in detection and prosecution.
"We are taking an innovative approach by using a 4G system rather than a radio or fibre-optic network that will give us the coverage we need."
The new system will allow cameras to be moved when required without the need for a fixed connection or radio system and will see images backed up and stored in a secure Cloud network.
It will also have the capacity to allow images from mobile CCTV units and potentially schools and other security cameras to be fed back into the control room.
Councillor McCormick added: "CCTV has a proven track record of ensuring public safety, protecting against property theft and vandalism and providing the evidence police need when a crime has been committed.
"This new system will provide all of those advantages at a sustainable cost to the Council and for many years to come."
Page last updated: 21 November 2018