Inverclyde Schools Continue to Make the Grade in Delivery of School Sport
Tuesday 20 November 2018

Schools across Inverclyde have been awarded a prestigious national award from sportscotland, the national agency for sport, for this academic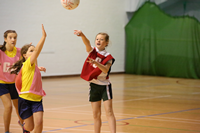 year.
The sportscotland School Sport Award is given for innovation and achievement in delivering school sport with 11 schools in Inverclyde passing with flying colours.
All Saints Primary, St John's RC Primary School, Moorfoot Primary and St Patrick's Primary School were awarded gold status this year with Gourock Primary School claiming the same honour last year. Aileymill Primary, Inverkip Primary, Kilmacolm Primary, St Francis Primary, St Mary's RC Primary and Wemyss Bay Primary have achieved silver.
There are now 673 schools in Scotland that hold a School Sport Award, a record number, meaning more schools than ever are putting sport at the heart of their school ethos. The number of gold-rated schools has increased to 284, a record high and a jump of over a third from last year's total of 212, with 307 schools being awarded silver status and 82 bronze.
Funded by the National Lottery, the sportscotland School Sport Award is a national initiative designed to encourage schools to continuously improve physical education and sport. It puts young people at the forefront of decision making and planning of physical education and school sport while increasing opportunities for pupils to take part.

The award also encourages sporting links between schools and the communities around them, providing opportunities for young people to progress.

Chief Executive of sportscotland, Stewart Harris, said: "Congratulations to staff and pupils across Inverclyde who are putting sport and physical education right at the heart of their school and local community. They should be proud of this fantastic achievement.

"Along with our partners, sportscotland is committed to building a world-class sporting system for everyone, and a crucial part of that is putting young people at the centre of our efforts. Working with local authorities and governing bodies of sport, we are creating closer links between physical education, school sport and club sport, which benefits young people by providing more and better opportunities to take part in sport.

"It's great to be able to recognise more schools than we ever have before, it shows that pupils, staff and parents across the country see the undoubted value in having sport as a crucial part of school life."

Inverclyde Council's Education & Communities Convener Councillor Jim Clocherty said: "A lot of hard work goes into promoting and providing sports opportunities for our children and young people.

"We benefit from close links with local clubs and associations and from an army of volunteer coaches and staff who give up their time.

"Children have a say in what activities they get involved in at school and they are benefitting from the fantastic facilities we have put in place through our £270million school estate programme."

To achieve a bronze or silver sportscotland School Sport Award, schools self-assess their current practice. However, to gain gold status an extensive external assessment is also carried out by an independent panel of experts.

The award is supported by the Active Schools Network, a programme that involves sportscotland working in partnership with all 32 local authorities to encourage schools to ensure there are opportunities for all children and young people to engage, participate and reach their potential in this area.

The on-line self-assessment tool supports schools to achieve this by helping them to reflect on their current practice and identify areas for improvement. It also puts the young people in the school at the forefront of the decision making and implementation processes around sport in their school.
Ends
Page last updated: 20 November 2018