Inverclyde Shines at SQA's Star Awards
Wednesday 14 November 2018
Two young men from Inverclyde stole the show at the Scottish Qualifications Authority's annual Star Awards ceremony winning two of the main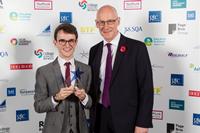 trophies.
There was also a high commended award for an Inverclyde Council primary school.
Student teacher Jonathan Marshall - a former pupil of Clydeview Academy in Gourock – took two prizes. He was named School Candidate of the Year before lifting the SQA's prestigious individual Pride o' Worth Award.
The judging panel unanimously recognised Jonathan's outstanding bravery and determination to overcome significant health challenges, and his positive contribution to life at his former school.
Inverclyde Academy pupil Jason McIlroy was named SQA's inaugural Young Person of the Year.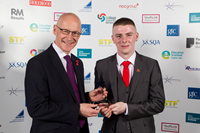 Despite struggling to engage with school from an early age, Jason successfully changed course after he joined a Wider Achievement group at high school, and began working towards SQA awards in Personal Achievement and Volunteering Skills.
A partnership between King's Oak Primary School in Greenock and Inverclyde Council's Community Learning and Development Partnership was recognised with a Highly Commended award. Young pupils undertake SQA awards to help them make a successful transition from primary to secondary school.
Inverclyde Council's Education Convener Councillor Jim Clocherty said: "What a fantastic achievement for all concerned and what a positive reflection their achievements have on education in Inverclyde.
"We do all that we can to support and encourage our children and young people to be the best they can be and both Jonathan and Jason are shining examples of that and they are to be congratulated and commended."
The SQA Star Awards recognise both the individuals who work towards and the organisations that deliver SQA qualifications; rewarding those that have demonstrated an outstanding commitment to education and training.
Speaking about the winners and highly commended finalists, SQA Chief Executive, Dr Janet Brown, said: "Every year I am amazed by the stories of achievement, ingenuity, and accomplishment of our Star Awards winners.
"Every one of them - and all the highly commended finalists - fully deserve the recognition that they have received."
Photographs: Jonathan and Jason receiving their awards with Deputy First Minister John Swinney MSP.
Page last updated: 15 November 2018