New Primary Heralds Second Century of Denominational Education
Wednesday 21 November 2018
The latest primary completed as part of Inverclyde Council's £270million school investment has been officially opened on the centenary of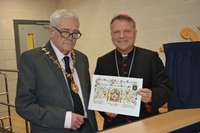 Catholic education in Scotland.
The £9.2million St Ninian's in Gourock is a state of the art building incorporating 13 classrooms, a gym, dining hall, music room and a library over its two storeys.
The official opening was performed by the Rt. Rev. John Keenan, Bishop of Paisley. He said: "I am thrilled to be present at the official opening of the new St Ninian's Primary school campus as the school community moves to a splendid new site fit for the education and formation of our young people well beyond the next generation.
"I want to commend Inverclyde Council for their visionary policy in renewing our local school stock over the past decade and which is coming to completion ahead of schedule."
Head Teacher Lesley McCabe said: "The fabulous new building has provided our pupils with the opportunity to learn in a truly stimulating educational environment. The children benefit from colourful and creative classrooms with state of the art IT equipment to enhance their learning.
"As you wander along the corridors it is wonderful to see the school community make use of the spacious flexible learning areas for a host of curricular activities, including art, food technology and singing.
"The design of the building allows staff to plan and deliver exciting lessons both inside the school and for outdoor learning. Our school community has a new lease of life since moving here in August and each day continues to discover the benefits such a terrific new building brings to the progress and achievements of our pupils."
The Education (Scotland) Act 1918 received Royal Assent on 21 November 1918 allowing the state funding of Catholic schools.
Bishop Keenan added: "Catholic education has flourished in Scotland since the arrival of Saint Ninian on our shores in the 4th Century. The new St Ninian's campus, however, opens in the centennial year of the Education Scotland Act 1918 which, itself visionary, created a partnership between the Catholic Church in Scotland and the State, through its local authorities, that has provided high quality denominational education for all those families who have chosen it.
"One hundred years later this partnership in these parts between the Diocese of Paisley and Inverclyde Council is not just settled but is better than ever."
I am delighted that the opening of Saint Ninian's campus hosts our official celebration of this impressive collaboration. What better way to commemorate one hundred years of partnership between the Church and State in the education of our young people than in the inauguration of a wonderful new campus to see us well into the next century of collaborative friendship."
Education & Communities Convener Councillor Jim Clocherty said: "This is an historic date for Catholic education in Scotland and an historic date for Catholic education in Inverclyde.
"Denominational schools serve the whole community and through their values and principles have made an extremely positive contribution over many years."
The new St Ninian's is among the latest projects in Inverclyde Council's £270 million schools estate programme.
The £5million refurbishment of Moorfoot Primary in Gourock and £3.8million transformation of Lady Alice Primary in Greenock have also been completed.
Inverclyde Council has committed to providing new or completely refurbished schools for every child by 2020.
Photographs:
Provost Martin Brennan with Bishop John Keenan signing a certificate marking the centenary of the Education (Scotland) Act 1918.
Head Teacher Lesley McCabe, Provost Martin Brennan, Bishop John Keenan, Councillor Jim Clocherty.
Page last updated: 21 November 2018