New Recycling Service after Company Collapse
Thursday 15 November 2018
Inverclyde Council has taken steps to fill the role of collapsed recycling contractor Greenlight Environmental Ltd.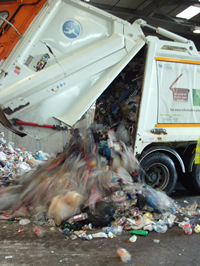 As well as collecting glass from recycling centres the company was also responsible for picking up blue bin material from tenement and high-rise properties.
From the end of November the Council will introduce a modified version of the service.
Environment & Regeneration Convener Councillor Michael McCormick said: "The collapse of Greenlight came as a shock and of course had an immediate impact on our recycling services.
"We have worked very hard over the years to promote recycling in Inverclyde and people have listened and taken on board the message extremely well.
"We are one of the top performing councils in Scotland and I think everyone here is determined to maintain that momentum and recycle where possible.
"As a result we have come up with a solution that can effectively fill the gap left by Greenlight's collapse within existing resources."
People living in tenements and high rise properties will be provided with blue polythene sacks to be placed on the kerbside or nearest collection point by 7am on their collection day.
Supplies of blue bags will be delivered to residents every 20 weeks. There will be no change to the weekly black bag or bin collections.
Councillor McCormick added: "We appreciate there has already been some inconvenience for people since Greenlight collapsed but we have been working hard behind the scenes to come up with a workable and sustainable solution.
"Although this is a somewhat reduced recycling service for tenements and high rise flats it is the same for every other property in Inverclyde."
Letters are being delivered notifying residents of their collection day which will be Wednesday, Thursday or Friday
Recycling Helpline 01475 715901
Page last updated: 15 November 2018