Poppy Projection Begins Week of Armistice Centenary Commemorations
Tuesday 6 November 2018
Images of falling poppies are being projected onto Greenock's Municipal Buildings as part of a programme of events marking Armistice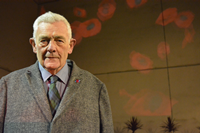 commemorations.
The area known as Cowan's Corner in Clyde Square will become an animated memorial for two hours each night until Remembrance Sunday.
Provost Martin Brennan said it was a fitting way to mark the human impact on Inverclyde of the war in which so many fell.
"Every community in Inverclyde was affected by the Great War – scarcely a single family escaped the news that a relative had lost their life.
"The legacy of World War One had an impact not only on the generation that fought and sacrificed but also on those that followed them.
"The Council then, as it does now, had ultimate responsibility for the welfare of its communities so this is a fitting manner to remember the centenary of the Armistice."
The projection will start around 5.30pm and continue for around two hours every night up to and including Remembrance Sunday on 11 November.
Alongside the traditional events to mark Armistice Day Inverclyde Council is participating in several national events for the centenary commemorations.
They include life-sized silhouettes of soldiers being installed at war memorials and the lighting of a beacon on Remembrance Sunday.
Page last updated: 6 November 2018