Roads Minister Invited to Inverkip
Tuesday 13 November 2018
Inverclyde Council has written to the Scottish Government's Cabinet Secretary for Transport inviting him to see for himself a known accident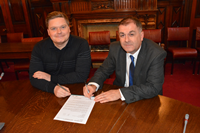 blackspot.
The Council has been presented with revised improvements on the A78 associated with a City Deal regeneration project for the former Inverkip Power Station.
Council Leader Councillor Stephen McCabe said: "We had been asked to approve a change to the previously agreed scheme to allow a final business case for the project to be submitted.
"However we were concerned this involved abandoning a new roundabout and moving forward with an extensive traffic signal controlled junction instead."
Councillor Christopher McEleny Leader of the minority groups said: "The location is a known accident blackspot and has been the subject of letters and meetings with Transport Scotland over many years.
"The likelihood is that local people will not be happy the original roundabout solution is to be scrapped.
"We would therefore like to invite the Cabinet Secretary for Transport Michael Matheson MSP to see the site for himself and to review the proposed changes to the A78 road improvements.
The £3.25million City Deal project in Inverkip is a joint infrastructure and development project by Inverclyde Council and Scottish Power to address the restricted network and junction capacity on the A78 trunk road.
The project will allow the development of a major 20 hectare brownfield site around the former Inverkip Power Station to create over 600 houses and 6,000sq m of commercial retail space.
Page last updated: 13 November 2018