Work to begin Widening Key Port Glasgow Bridge
Tuesday 13 November 2018
A bridge in Port Glasgow is to be widened in a £650,000 scheme aimed at improving safety and reducing congestion.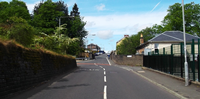 Work starts on Monday 19 November on Chapelton Bridge – the main pedestrian route for pupils at St John's Primary – on Glen Avenue.
Inverclyde Council's Environment & Regeneration Convener Councillor Michael McCormick said: "When completed the bridge will have two wider pavements for pedestrians and be able to accommodate two lanes of traffic.
"The narrow bridge also becomes a bottleneck if there are any problems on the nearby A8 so widening it will make a big difference if the trunk road is closed for essential works or in an emergency."
The work is being carried out in two phases. Utilities - including water, gas and electricity – will first be moved to the north side of the bridge to allow the second phase of physically widening the bridge to begin in February next year.
Councillor McCormick added: "There is no escaping the fact the work will cause disruption for a lot of people, particularly parents and pupils at St John's.
"The simple fact is that ultimately everyone will benefit and the short term pain of diversions will lead to long term gain for the local community.
Phase 1 - Monday 19 November to Friday 21 December 2018. If the work is completed sooner the road will be reopened immediately.
Phase 2 - February 2019.
In addition to the Chapelton Bridge, Glenpark Drive to the junction of Rossbank Road in Port Glasgow will also be affected by the closure.
A fully signed diversion route will be in place. Details are published in the roads section of the Council website and postcards will be delivered to nearby homes and businesses giving residents advance notice of the bridge widening work.
Motorists are advised to allow plenty of extra time for their journey, particularly during peak periods.
Page last updated: 13 November 2018