WWI posters in national display
Thursday 8 November 2018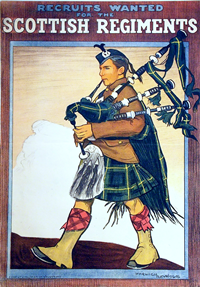 A selection of Inverclyde Council's unique collection of original First World War posters is playing a part in an act of national commemoration.
They will feature in a projection of the names of all those who died serving on behalf of Scotland in WWI onto the Scottish Parliament building on Remembrance Sunday.
Inverclyde Provost Martin Brennan said: "Communities in Inverclyde like many parts of Scotland were torn apart by the events of the First World War.
"The country lost a generation in a little over four years and these centenary commemorations give us the chance to remember the sacrifices made and how they shaped our country today.
"Our collection of posters shows the vast range of messages being promoted during those dark years - from recruitment posters urging men to join up to promotional posters calling for people to help fund the fighting through war bonds.
"It is extremely fitting they should form a part of the national tribute to those who made the ultimate sacrifice a century or more ago."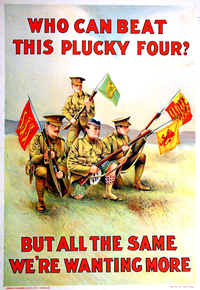 The unique illumination will honour the 134,712 men and women listed in the Scottish National War Memorial Roll of Honour along with nurses, munitions factory workers, Merchant Navy personnel and overseas servicemen who fought on behalf of Scotland.
It will take seven hours to project the names of all those who died, reflecting the sheer scale of loss and the sacrifice that generation made for the country.
Set to music, the illumination - which will be projected on to the whole facade of the Parliament - will include images and designs that tell the story of the conflict.
Throughout the evening there will be performances by pipers from across Scotland, and the projection will conclude at midnight with the Last Post.
Designed by artist Ross Ashton, the projection titled - THEIR NAME LIVETH - is the result of a partnership between the Scottish Parliament, the Scottish National War Memorial and The Royal Edinburgh Military Tattoo.
Page last updated: 7 November 2018