Council call for 2019/20 budget ideas
Wednesday 24 October 2018
Residents across Inverclyde are being asked to put forward their views, ideas and suggestions as part of the council's budget setting for 2019/20.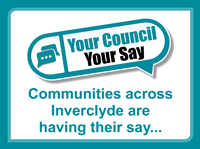 It is not all about finding ways to cut services - council bosses are asking for positive ideas and suggestions for improvements to make services across the area operate at their best.
Inverclyde Council Leader and chair of the council's cross-party members budget working group, Councillor Stephen McCabe said: "Over the past few years we have gone out to the community to highlight proposals where officers have worked up specific savings or cuts.
"Residents have always had the chance during every consultation to put forward any ideas or suggestions.
"This time we are putting that front and centre. We want to hear positive ideas on how the council can make improvements to deliver the best, most efficient services we can. If residents have ideas about how services can be more efficient, how income can be increased or how money can be saved, we want to hear them.
"With continued pressure on public finances, it may become more difficult to maintain high levels of service in the future. That is what makes it so important for us to tap into great ideas and suggestions out there in our community among the people who use and access our services every day."
A dedicated online survey has been created where anyone from Inverclyde can send in their ideas. Just follow the links on this page.
Page last updated: 24 October 2018