Green Waste Collections to be Suspended for Winter
Wednesday 10 October 2018
People are being advised that the garden waste collection service will be temporarily suspended for the winter months from Friday 16 November.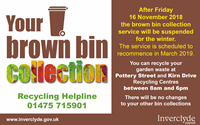 For the final garden waste collections of 2018, please place your brown bin beside your blue bin by 7am on your regular recycling collection day during week commencing 5 November OR week commencing 12 November.
There will be no changes to other bin collections.
Garden waste can still be recycled at Pottery Street and Kirn Drive Recycling Centres between 8am and 6pm. There will be no changes to your other bin collection arrangements. Brown bin collections are due to resume in Spring 2019.
Environment & Regeneration Convenor Councillor Michael McCormick said: "Our experience has shown that the demand for green waste collections reduces greatly during the winter months.
""It therefore makes environmental and financial sense to defer the brown bin collections from late November until March. Residents can still recycle their garden waste at Pottery Street and Kirn Drive Recycling Centres and both sites are open from 8am to 6pm''
For more details contact the Recycling Helpline on 01475 715901 or visit Inverclyde Council's website www.inverclyde.gov.uk
Page last updated: 10 October 2018