Inverclyde Leads the Way in Closing the Attainment Gap
Tuesday 30 October 2018
Inverclyde Council's approach to closing the attainment gap in schools has been described as life-changing and sector-leading in an official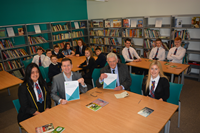 government report.
Education Scotland inspectors praised the very strong vision and shared values which are 'lived by all' across the authority.
Their report says: "The influential leadership at all levels, from the Chief Executive, head of education through the central teams and heads of establishments are empowering staff to play their part in improving the life chances of children, young people and their families."
Inverclyde Council's Education & Communities Convener Councillor Jim Clocherty said: "This inspection confirms that we really are making a difference in closing the poverty related attainment gap in our schools and communities.
"Identifying and targeting resources where they are needed has been key to our success, with staff developing a deep understanding of the challenges faced by many children, young people and families in their care.
"There is a clear focus on improving outcomes for children and young people that is consistent across the authority and the feedback we have received from parents has been outstanding."
"It is also hugely encouraging to see we are pushing standards up across the board – not just closing the attainment gap – and I would like to thank everyone involved for their hard work.
"We are fortunate to have some of the best teaching staff in Scotland whose professionalism together with the support of parents and carers is really making the difference.
"Although we are rightly proud of the £270m investment in our school estate we all recognise that it is what happens inside the buildings and in our communities that make Inverclyde successful."
Inverclyde was one of the initial seven Attainment Challenge local authorities in 2015.
Six Inverclyde primary schools were involved in the first year. In the second year the focus was on nine primary schools and has now been extended to include all six secondary schools and a total of 12 primary schools.
Key components in delivering the aims of the Attainment Challenge are families and communities, meeting learning needs and leadership.
The Attainment Challenge team works with school staff and family support workers to identify children and families who would benefit from targeted interventions, building relationships and providing support.
Community learning and development also offers a range of courses - including those focused on personal development - that have supported a number of parents to successfully move onto college, university and employment.
Education Vice Convener Councillor Martin Brennan: "Some parents have described these opportunities as having a life changing impact on them and their families.
"By taking this nurturing and supportive approach and sharing our ideas with colleagues in other authorities I believe Inverclyde's experience and expertise can only benefit children and young people across the whole of Scotland."
A copy of the Education Scotland report can be downloaded on this page.
Photograph: Councillor Clocherty with Councillor Martin Brennan, Vice Convener Education and pupils at Inverclyde Academy in Greenock.
Page last updated: 29 October 2018