Inverclyde living is best in the west
Tuesday 30 October 2018
A survey by a major Scottish bank has highlighted that living in Greenock is the best value for Glasgow commuters.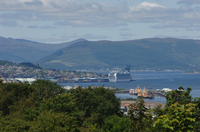 According to the Bank of Scotland they can save thousands of pounds living even 15 minutes journey from the city centre.
The survey found that the saving on house prices more than makes up for the cost of travel to Edinburgh or Glasgow.
In the west of Scotland, Greenock is the best place to live for commuters travelling into Glasgow city centre.
Inverclyde Council's Leader is calling on city centre commuters to find out more about the benefits of Inverclyde living as part of the repopulation campaign promoting Inverclyde as a place to live, visit and work.
Councillor Stephen McCabe said: "As a lifelong resident of Inverclyde I know the benefits of living here. This new survey by the Bank of Scotland highlights the real financial benefits for commuters to Glasgow by living in Greenock.
"As part of our wider repopulation campaign, we have been promoting the benefits of Inverclyde living. I would encourage residents and businesses to join us in spreading the word."
Bank of Scotland mortgages director Graham Blair said: "Many people have a desire to buy near their place of work to escape the morning commute. However, for some towns and cities, the premium this comes with can price out the average buyer.
"With savings to be gained, it is an attractive pull for any potential purchaser to look further afield."
Earlier this year Inverclyde Council revealed that national statistics showed that inward migration to the area had overtaken outward migration for the first time.
Inverclyde Council leader, Councillor Stephen McCabe, said: "These statistics show that more people are coming to Inverclyde than leaving. The fact that the pattern is moving up the way is good news for our area and we must all maintain the momentum to keep it moving in that direction.
"The Council and our community planning partners launched the 'Inverclyde living' campaign to promote our area and encourage repopulation. In the last Council budget we allocated additional funding to market Inverclyde as a place to visit and live and examine the housing development opportunities in our area."
Page last updated: 31 October 2018