National Award for Compassionate Inverclyde
Tuesday 16 October 2018
An Inverclyde project changing attitudes and behaviour around death, dying and loneliness has won a national award for outstanding quality of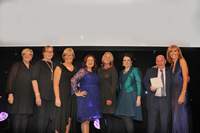 service.
Compassionate Inverclyde - the first compassionate community in Scotland – has been recognised at the COSLA Excellence Awards 2018.
The project is a partnership between Inverclyde Health & Social Care Partnership (HSCP) and Ardgowan Hospice and has brought together hundreds of volunteers supporting and caring for one another at times of crisis and loss.
Inverclyde Council's Health & Social Care Convener Councillor and Chair of Compassionate Inverclyde Robert Moran said: "I would like to congratulate everyone involved with Compassionate Inverclyde for this thoroughly deserved award.
"Their work is changing lives on a daily basis and delivering opportunities for people to help each other.
"This award is clear recognition of those efforts and send out the message that we all have something to give and can play a part in supporting those affected by death and bereavement."
Community engagement and development has been carried out across all age groups and organisations within Inverclyde involving schools, churches, workplaces, community centres, hospital, local hospice, youth groups and voluntary organisations.
Inverclyde Royal Hospital has become the first hospital in Scotland to have the No One Dies Alone (NODA) programme. Local people were concerned about many people living and dying on their own. Volunteers provide support to those in their final hours who do not have family or friends available to be with them.
Another idea developed from speaking to people in the community has been Back Home Boxes containing basic essentials for people living alone leaving hospital.
The 2018 COSLA Excellence Awards honoured eight Scottish Councils and their partners.
Describing this year's entries as inspiring, COSLA President Councillor Alison Evison said: "These winners sum up what Scottish Local Government is all about- innovative and joined up services, delivered by passionate staff, that are changing lives every day.
"We have witnessed some incredible projects, and their results are already being felt across the country.
"Above all, I've been struck by the sheer determination to work with communities to meet their needs and to set new standards of excellence, whatever the challenges.
"The COSLA Excellence Awards are helping to build on real life success stories like these and share their learning. Where these projects are leading, others will follow, and all those who took part should be very proud indeed."
Now in their 19th year, the COSLA Excellence Awards are the most established and largest of their kind
Full details of all the award winners can be found via the link on this page.
The overall winners were announced following a three-stage judging process which narrowed down over 240 submissions.
The Awards Ceremony is part of the 2018 COSLA and Improvement Service Conference. Entitled 'Our Agenda' it explores why in today's uncertain world Local Government's distinct agenda is so important.
Photograph: (LtoR) Sally Loudon, Chief Executive Officer, COSLA; Jill McInnes, Ardgowan Hospice; Gillian Robb, Inverclyde Health & Social Care Partnership (HSCP); Gillian Maxwell, Amazon; Karen Haldane, Your Voice, Louise Long, Corporate Director Inverclyde HSCP; Councillor Robert Moran, Inverclyde Council; Jackie Bird
Page last updated: 16 October 2018