New Learning Centre Officially Opened
Monday 8 October 2018
Inverclyde Council's new £3.4million nursery has been officially opened.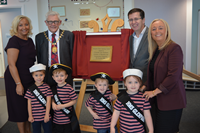 The 100 pupil Glenpark Early Learning Centre in Greenock has been built on part of the former Greenock Academy site replacing the previous 'west end' facility at Kelly Street Nursery and St Mary's Primary.
Opening the new centre Education & Communities Convener Councillor Jim Clocherty said: "Although Glenpark is a new name in a new building it is anything but a new beginning. The centre continues the excellent early learning and childcare that has been provided in the west of Greenock for nearly 20 years.
"The building has been designed to excite and motivate the children and is a truly inspirational setting in which to teach and learn.
"We have committed ourselves to providing every child in Inverclyde the best facilities in the country and Glenpark is a perfect example of what is being achieved."
All three playrooms in the new Glenpark Early Learning Centre – two accommodating 40 children and one accommodating 20 – have floor to ceiling windows offering views out over the River Clyde.
Outside teaching and play areas have also been created including a wooden story-telling chair.
Head of Centre Patricia Wylie said: "We are so privileged to be working in this wonderful state of the art building where we have a new fabulous learning environment for the children and families in the local community.
In our previous home at Kelly Street Children Centre we were proud that we had provided a high quality service with committed and excellent staff making the best use of the environment that we had.
We are delighted that Inverclyde Council has given us the opportunity to combine both our fantastic staff and a fabulous environment which will enable us to provide an excellent provision for the future children of the community."
The new centre is part of Inverclyde Council's £270 million school estate programme.
Moorfoot Primary in Gourock has been officially opened following a £5million refurbishment and the £3.8million makeover of Lady Alice Primary in Greenock has also been completed.
A brand new £9.2million St Ninian's Primary in Gourock will be officially opened next month.
Photograph: (LtoR) Patricia Wylie; Provost Martin Brennan; Councillor Jim Clocherty and depute head of centre Gaynor Wiggins.
Page last updated: 8 October 2018