Official Opening for Inverclyde's 'Old' Lady
Wednesday 31 October 2018
One of the oldest of Inverclyde Council's primary schools has been officially reopened after undergoing a multi-million refurbishment.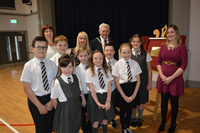 Lady Alice in Greenock has been transformed following the year-long £3.8million project.
The original 1937 exterior of the building has been retained while the inside has been completely reworked and modernised and a new reception area added.
Education & Communities Vice Convener Councillor Natasha Murphy – a former pupil - performed the official opening. She said: "Lady Alice has been at the centre of this community for many years and it is such an honour for me to open the school.
"This is where I and my three brothers learned to read and write and a place which for so many people holds memories and moments that have defined their lives.
"The primary school years are not just about academic learning, they are where children learn how to socialise, share and realise who they really are.
"Here at Lady Alice staff do an immense job making sure each child is treated fairly, looked after and educated according to the school's values of wisdom, justice, compassion and integrity."
A lift has been installed alongside the latest classroom teaching technology while the school boasts a hi-tech audio and lighting system in the assembly hall.
Head teacher Gail Connick said: "It is a privilege and an honour to be part of such a wonderful school.
"The building has been expertly refurbished but it is the community which makes up Lady Alice.
"We have worked together to make a great success of our time at the former St Stephen's High building where we overcame the challenge of distance to ensure that we retained our community spirit.
"We are absolutely delighted to be back together, where we belong, under one roof in a building which meets the needs of our learners, our families and our staff and we are hugely grateful for the excellent accommodation we have been provided with."
The project was delivered by Clark Contracts. Director, Michael Scanlan said "It was fantastic to work with Inverclyde Council again to deliver this project at Lady Alice Primary School. We hope all the pupils and staff are settling in and enjoying being back at their newly improved school".
Lady Alice is the latest school to undergo a complete refurbishment as part of Inverclyde Council's £270million investment in its school estate.
Education Vice Convener and Provost Martin Brennan said: "For the Council it is one more step in the journey to fulfil a commitment made over a decade ago - to educate every child in Inverclyde in a new or a re-furbished school by 2020.
"This has cost £270million to date – a huge sum for a small authority - and is a remarkable accomplishment.
"But we shouldn't lose sight of the fact that teachers and the quality of teaching remain the most important factors in a child's education – and in Inverclyde we have the best of the best."
Photograph: Gail Connick, Head Teacher, Lesley Caldwell, Depute Head, Provost Martin Brennan and Councillor Natasha Murphy with pupils.
Page last updated: 31 October 2018