Port Glasgow Paves the Way
Monday 8 October 2018
Work to replace and improve the road and pavements at the heart of Port Glasgow is underway.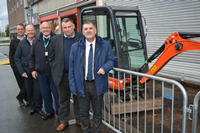 The £335,000 scheme is part of Inverclyde Council's £2.5million towns and villages investment and will help to transform the town centre
Regeneration Convener Councillor Michael McCormick said: "This work will give the town centre a new look and feel.
"There is a growing recognition that Port Glasgow has the potential to become a bustling and thriving town centre for local people and visitors alike matching the popularity of the retail park.
"Princes Street is the main thoroughfare through the town and combined with the improvements we have already made to the town centre I am confident we can continue to attract fresh investment to the area."
A new spur road from the A8 has already been completed and work further environmental improvements to the town centre have been identified. These include the removal of redundant buildings and the restoration of empty shop units.
Strathclyde Partnership for Transport (SPT) has contributed £150,000 towards the cost of additional carriageway works.
Inverclyde Councillor David Wilson is Vice Chair of SPT. He said: "SPT is delighted to play its part in delivering improvements in and around Port Glasgow.
"Once these works are complete it will deliver a much improved public realm within the town centre for both pedestrians and cyclists whilst also improving integration and accessibility with local public transport services.
"It will also mean better access to retail and leisure activities as well as general business premises, helping to support the economic regeneration of our town."
The work – which is being managed by the Council's delivery agent Riverside Inverclyde - is expected to last until the end of the year.
Chief Executive Fiona Maguire said: "We appreciate there will be a certain level of disruption for traders and residents whilst the works are underway. Both ri and Landscape and Contracts hope to keep this to a minimum and we have appointed Helen Drummond as our Community Liaison Officer during the contract period."
Councillor McCormick added: "We are working hard to keep local traders and residents informed about the work and are happy to answer any concerns or questions they might have. The disruption will be short-term when set against the future benefits and prosperity of Port Glasgow."
Photograph: (LtoR)Steven Gray, Contracts Manager. Landscapes and Contracts Ltd; Councillor Michael McCormick; Councillor David Wilson; Councillor Drew McKenzie and Councillor Stephen McCabe.
Page last updated: 8 October 2018