Local Services at the Click of a Mouse
Wednesday 19 September 2018
Households in Inverclyde can now find out a range of services from council bin collections to the time of the next bus based on their home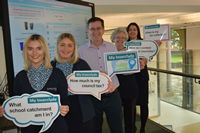 address.
The new 'My Inverclyde' section of the Inverclyde Council website provides relevant local information including health services and public transport.
Depute Council Leader Councillor Jim Clocherty said: "All of the services listed are based on your home address. For instance it will tell you when your next bin collection day is and show you which bins you need to put out.
"It can also tell you the location of your local bus stop or train station and when the next bus or train is due as well as the nearest schools, pharmacy, dentist or GP."
The new page includes local leisure facilities, land registry information, local weather and even broadband speed.
Panels can also be dropped into the page when necessary such as during the winter to show grit bin locations and gritter routes.
The page takes relevant information from a variety of sources, including the Council, NHS Scotland, Public Transport – pulling it all together in one place.
Councillor Clocherty added: "The page can be customised – so for instance if you don't have school aged children in the household you can hide the "schools" panel as it won't be relevant.
"Our aim is to give the residents of Inverclyde a "one stop shop" for useful information and we hope to introduce additional information from other services and providers in the near future."
Photograph: Councillor Clocherty with Customer Service Centre Staff (LtoR) Millie McFarlane, Pamela Muir, Esther Hanna and Louise Margey
Page last updated: 19 September 2018