Summer Reading Success Celebrated
Thursday 13 September 2018
Hundreds have been recognised at an awards event celebrating completion of their Tesco Summer Reading Challenge hosted by Inverclyde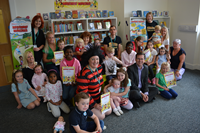 Council libraries.
Over the school holiday young people from across Inverclyde were supported by their families to visit libraries, read books and take part in fun activities.
Education & Communities Convener Councillor Jim Clocherty said: "Once again the summer reading challenge has been a huge success and hugely popular.
Over 1000 signed up to take part and they have had great fun and learned a great deal from the pages of the books they have read.
"The whole idea is to encourage our children to brush up their reading skills over the summer and to stay enthusiastic about books."
This year's reading challenge had a theme of 'Mischief Makers' inspired by the 80th anniversary of the iconic children's comic the Beano.
All 200 young people who completed the challenge of reading six books in six weeks were presented with gold medals and took part in a magic show at an awards ceremony in Greenock Town Hall.
Photograph: Councillor Clocherty (centre) at a Tesco Summer Reading Challenge event at Greenock Central Library.
Page last updated: 13 September 2018