Young People Find their Voice in Inverclyde
Monday 10 September 2018
A group of Inverclyde young people has come together for the first time to speak directly to the people and organisations making key decisions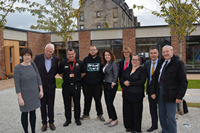 about the care system.
The Champions Board – made up of young people with experience in care – is a new approach to support the range of agencies who are Corporate Parents to improve the care they provide.
Inverclyde Council Leader Councillor Stephen McCabe said: "Like any parent the Council takes its responsibilities seriously but also wants to listen and learn from the children and young people in our care.
"The Champions Board approach puts care experienced young people at the heart of decision making processes so they can have a direct and meaningful impact on the service that affect their lives.
"It is our responsibility to understand the lives of our looked after young people and respond to their needs as any parent should."
Corporate Parents are the public bodies named in law as having responsibilities for looked after and care experienced children and young people.
In most cases a local authority takes on some legal responsibility for the care and wellbeing of the child or young person – often through a Children's Hearing – but also through the courts. In many cases the arrangement is made on a voluntary basis between the family and their local authority.
Councillor McCabe added: "The Champions Board model is aimed to empower young people to have a real say in all areas of their lives.
"They now have a voice to share their experiences with local politicians, service chiefs, front-line staff and practitioners.
"By working with them, their families and local partners we can take huge steps towards making Inverclyde the most nurturing place to live in Scotland.
Inverclyde Champions Board will meet formerly twice a year. In between, young people and their families will be heavily involved in effecting changes in all areas of their lives: their health and wellbeing, education and their transition into adulthood that includes training, job opportunities and a home.
The 24 Corporate Parents named in the Children and Young People (Scotland) Act 2014 are:
Scottish Ministers
Local Authority
National Convener of Children's Hearings Scotland
Children's Hearings Scotland
The Principal Reporter
The Scottish Children's Reporter Administration
Health Boards
Special Health
Healthcare Improvement Scotland
Scottish Qualification Agency
Skills Development Scotland
Social Care and Social Work Improvement
Scottish Sports
Chief Constable of the Police Service of Scotland
Scottish Police Authority
Scottish Fire and Rescue
Scottish Legal Aid
The Commissioner for Children and Young People in Scotland
The Mental Welfare Commissioner
The Scottish Housing Regulator
Bord na Gaidhlig
Creative Scotland
Colleges & Universities
Photograph
Councillor Lynne Quinn, Simon Bruce, Chair Inverclyde Integrated Join Board, David McCarrey, Scottish Fire and Rescue Service, Ian Lamond, Louise Long, Inverclyde Council, Ruth Binks, Inverclyde Council, Councillor Elizabeth Robertson, Aubrey Fawcett, Inverclyde Council and Councillor John Crowther.
Page last updated: 10 September 2018