A date for your diary - Gourock Highland Games Sunday 12 May
Wednesday 24 April 2019
International interest is building in the Gourock Highland Games with enquiries from tourists from as far afield as Spain, France, Canada, Australia and the United States.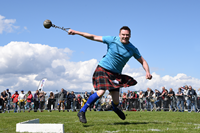 Many of the visitors are planning their itineraries around the games and are looking for accommodation in the local area.
The annual event, now celebrating its 63rd year, kicks off the Scottish highland games season on Sunday 12 May at 12noon in Battery Park, Gourock.
Over 10,000 people are expected to attend the one-day event which features:
Top quality piping competitions in the first run out ahead of the opening Major of the season.
Traditional highland games competition including tossing the caber and lifting the Kempock Stane
The West of Scotland Highland Dance Championships
A range of come and try sports with Gourock Community SportsHub including golf, tennis and cricket
Mini Highland Games with Inverclyde Active Schools
Food, drink and entertainment
Traders' tent hosting James Watt merchandise and a range of craft stalls
Gourock Community tent with local community information youth groups and tourist information
Plus a range of other fun activities and events.
A spokesperson for Inverclyde Council, which organises the event, said, "In the run up to the games we get lots of calls from visitors looking for information about the event and how to get there. This year most of our calls, emails and many of our social media messages have been from international visitors.
"Some already have plans to travel and are choosing to take in the games as part of their trip. There appears to be an increasing number of people planning their Scottish holidays' to coincide with the Gourock Highland Games.
"The games hold a special place in the Scottish diary and we are delighted that so many international visitors intend to join us to mark the start of the Scottish season here in Inverclyde."
Page last updated: 24 April 2019