Scam alert - council tax bills and magazine ad sales
Thursday 18 April 2019
Trading Standards officers are growing concerned over a spate of bogus calls targeting local businesses and individuals across Inverclyde.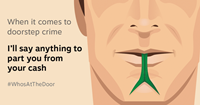 Councillor Tommy McVey, Chair of the Local Police & Fire Scrutiny Committee, said, "Scammers are very active at the moment and we've certainly seen a big increase in activity recently. We're doing our best to raise awareness about the problem because so few victims ever report it."
It's estimated that over 8,000 people over 65 could have been targeted by scammers in Inverclyde.
One local firm was phoned by a person claiming to be the 'Crime Prevention Officer' for the area. The bogus caller tried to get him to place an advert in a 'Crime Prevention Magazine,' that he claimed would be delivered to thousands of homes in Inverclyde. The cost was quoted at £180 a month.
Councillor McVey said, "This scam has been around for about 20 years. The magazine doesn't exist. The way it works is that the 'sales rep' cold calls a business. If the owner agrees to take an advert, a proof is produced and sent through for approval. The scammers claim this constitutes a contract and then demand payment.
"A variation of this scam is that the 'sales rep' says the firm has already taken out an advert and would the business owner like to see a proof. If the person says, 'yes' a proof is sent through and, again, the scammers claim this is a firm contract and demand payment. The same scammers also try and sell advertising for a Fire Service magazine. These sales practices are illegal and unenforceable.
Councillor Michael McCormick, Convener of Inverclyde Council's Environment & Regeneration Committee, said, "Two local residents have also received calls claiming to be from Inverclyde Council's council tax team. The caller tried to get the residents to reveal their bank account details. In one case the caller was told it was so that a refund could be paid into the account and in the other case it was alleged the person had an outstanding bill.
"The council never contacts local residents by phone or email to ask for payment and will never ask for your bank details by phone or email."
Police Scotland and the Trading Standards Scotland are currently running a publicity campaign to highlight the problem #WhosAtTheDoor, #ShutOutScammers.
Trading standards officers have issued the following advice for anyone who gets a cold-call from a publishing company selling advertising:
Don't agree to anything until you are given full details of the publishing company and what you will get for your money
Ask to see terms and conditions before agreeing anything
Read all small print of any contract carefully
Establish how many copies are being published, where they will be distributed and how, and where can you get hold of a copy
If you are told that someone from your company has already verbally agreed to place an advert get full details of who and when and check with the member of staff before agreeing anything further
Ask which other companies in your area have taken advertising space and contact them to see if the caller is genuine
If you receive a demand for payment, which could be over the phone or via an 'invoice' respond to the demand stating why you do not owe any money.
Page last updated: 18 April 2019