Inverclyde does the double at Public Service Awards ceremony
Derek Flood, a Welfare Rights Development Officer with the Inverclyde Health & Social Care Partnership (HSCP), and the Compassionate Inverclyde project, run by the Ardgowan Hospice, have both triumphed in their categories at this year's Scottish Public Service Awards.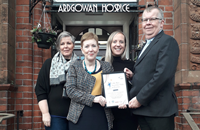 Derek beat off competition from the City of Edinburgh Council and Education Scotland to scoop the Leadership Award.
Compassionate Inverclyde won the Colin Mair Award for Policy in Practice against a field which included projects from Police Scotland and the Scottish Government.
Home 1st, the Inverclyde HSCP team that works with adults and older people, was nominated for the Campbell Christie Public Service Reform Award but was pipped at the post by NHS 24's Mental Health Hub.
The Scottish Public Service Awards were launched by Holyrood magazine in 2014. They are held in association with the Scottish Government and the Scottish Parliament. The awards are intended to recognise, 'the rich diversity of public life in Scotland and the vital relationships that cut across departmental, geographic, and institutional boundaries.'
The Scottish Public Service Awards offer an annual opportunity to showcase some of the most innovative and thought-provoking work being done in Scotland.
Councillor Robert Moran, Convener of Inverclyde Council's Health & Social Care Committee, said, "I would like to congratulate Derek Flood and the Ardgowan Hospice for this significant achievement.
"It is a real accolade to Inverclyde to be nominated for three prestigious Scottish Public Service Awards. To win not one but two of them is truly exceptional. These awards recognise how the area pulls together to support the most vulnerable people in our communities. They also recognise that this support is provided in an innovative, efficient and cost effective way."
Linda McEnhill, Chief Executive Officer at Ardgowan Hospice, said, "Ardgowan Hospice has been known for compassion right from its start 38 years ago. Compassionate Inverclyde helps to extend that compassion to people that we might not otherwise connect with. The HSCP has supported Ardgowan Hospice and Compassionate Inverclyde to be able to help all those who need us; it's a vital partnership for the people of Inverclyde and this award really acknowledges that – we are very proud to receive it."
Derek Flood, HSCP Advice Services Team Lead, said, "I view the award as a recognition of the collective contribution by the HSCP Advice Services towards helping to alleviate, at least to some extent, the realities of poverty and deprivation experienced on a day-to-day basis by all too many people in the community of Inverclyde."
Derek Flood's award recognised how he brought together separate teams under a single vision of improving the lives of our most vulnerable citizens. He inspired confidence and a generated a passion for the possible. The team still provides Social Security advice and information, Welfare Rights representation, and Specialist Money Advice but this is now done in a joined up way that minimises duplication and ensures local citizens see a long-lasting, sustainable increase in their income.
In 2016, Ardgowan Hospice launched Compassionate Inverclyde. Since then the project has grown into social movement that is helping to transform attitudes and everyday practices around loneliness, social isolation, death and bereavement across Inverclyde.
The project's ethos is about local people working alongside existing formal services to help ordinary people do ordinary things for other ordinary people. It taps into the deepest human desire to be kind, helpful and neighbourly.
Compassionate Inverclyde Compassionate Inverclyde contains a variety of strands including:
No One Dies Alone which trains and supports compassionate citizens as companions for people and families in the last hours of life.
The High Five Programme is delivered to school pupils, college students, youth clubs, prisoners, community groups and a local business. Each five week programme focuses on the five ways to wellbeing and helps people to understand how they can be kind to themselves and others
Back Home Boxes represent community acts of kindness designed to support people who live alone as they return home from hospital. The boxes are gifted by a local business and are filled with donations from the local community including: essential food items, hand crafted kindness tokens, a get-well card made by local school children and a small knitted blanket made by local people and community groups
Back Home Visitors is a new development based on neighbourliness. A volunteer visitor and a young person will visit an older person who lives alone and is socially isolated
Bereavement Café and Support Hub. The initial drop-in bereavement groups in two community cafes have been superseded by a volunteer led support hub in a local church. The Hub offers a meeting place for volunteers and a friendly haven for anyone in the community who is experiencing loneliness, loss, crisis, or bereavement.