Port High praised by inspectors
Friday 8 February 2019
An Inverclyde Council high school has been praised by education inspectors.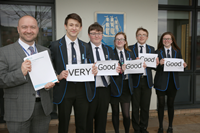 National body Education Scotland visited Port Glasgow High School for a week of observing classes and holding meetings to examine the work of the school.
Now they've published their report with the school receiving 'good' and 'very good' ratings and a range of areas being commended.
The inspection highlighted a range of strengths including the head teacher's leadership; the renewed values which underpin the friendly and nurturing ethos in the school; improvements in pupil attainment and the number of young people supported to move on to positive destinations from school and the way staff teams work across the school and with other schools in the wider community.
Port Glasgow High School, head teacher Stuart Clark said: "I am delighted that the school community has been recognised. Our staff at Port Glasgow High School know how positive an environment this is to work and learn. Inspectors have recognised this positive climate and that our hard work to ensure success for all has been commented on so positively. The real stars of the inspection were our pupils, who showed what a fantastic community this is.
Inverclyde Council education and communities convener Councillor Jim Clocherty said: "This inspection report highlights a school being led by a strong management team with the head teacher and staff being highly praised. It shows school teams working well and that our young people are learning in a positive nurturing environment and achieving.
"Well done to everyone involved in Port High. The praise in this inspection report is well deserved and shows once again the best hallmarks of an Inverclyde education is highly motivated and committed staff teaching eager and enthusiastic children who want to learn."
Areas for improvement were also identified by inspectors including encouraging the school to continue developing more consistent approaches to monitoring the progress of young people's attainment, achievement and wellbeing; ensuring all learners experience their full entitlement to a broad general education and ensuring all learners experience more consistency across all departments.
Leadership of the school was highlighted for particular praise due to a number of important improvements in the school over recent years. HMI recognised that exam results have improved and that the most recent year showed the school's best ever exam results.
The success of pupils leaving the school has also been commended, with the report stating that: "In the last two years, there have been notable improvements in the number of leavers going on to a positive destination. Almost all leavers now move on to a positive destination. Staff work very well with a range of partners with the aim of achieving 100% positive destinations for all. Staff have designed bespoke packages to engage and instil aspiration in the most disengaged learners. For example, the work to prepare groups of young people for employment through the Greenock Morton partnership, is helping to support them as they move into the world of work."
According to Education Scotland, a rating of 'Very Good' means the school has 'major strengths' and a rating of 'Good' means 'important strengths'.
The individual quality indicators for Port Glasgow High School were:
Leadership of change - Very good
Learning, teaching and assessment - Good
Raising attainment and achievement - Good
Ensuring wellbeing, equality and inclusion - Good.
Page last updated: 8 February 2019