Employers Encouraged to Tap into Local Talent
Tuesday 22 January 2019
Inverclyde Council is urging local businesses to take advantage of a scheme designed to help them expand their workforce by employing local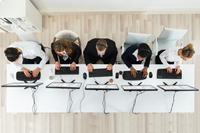 people.
The Wage Subsidy Programme is available to local small to medium sized employers and will pay 50% of the actual hourly rate, to a maximum of £5,000 or 52 weeks.
There is no restriction on the type of job that can be supported but posts must be for between 25 and 40 hours of work per week for at least a year, be additional to the existing workforce and not a replacement for a redundant employee.
Through the Inverclyde Employability Pipeline there is also free recruitment and HR support such as identifying suitable candidates and preparation of employment contracts.
Environment & Regeneration Convener Councillor Michael McCormick said: "This is a great opportunity for local businesses to tap into a wealth of talent they would not usually have access to.
"It is also a fantastic opportunity for local people to perhaps take their first steps on the road to a successful career and to benefit the local economy in Inverclyde."
Full details can be found by following the link on this page.
Page last updated: 22 January 2019