£500,000 Inverclyde District Court restoration unveiled
Restoration work on the former Inverclyde District Court is due to be finished in August when the historic rooms will be brought back into public use as a tourist attraction and, potentially, as a wedding venue.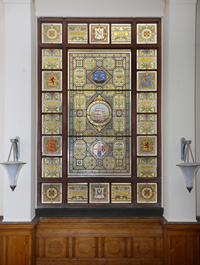 The £500,000 project involved drafting traditional craftsmen to restore the decorative and architectural features to their former glory.
The District Court is part of the Municipal Buildings complex which was completed in 1889. The rooms were in use for nearly 120 years. The Inverclyde District Court was one of the last in the Sheriffdom of North Strathclyde to be absorbed by the Scottish Court Service with its functions only transferring on 14 December 2009.
Councillor Michael McCormick, Convener of Inverclyde Council's Environment & Regeneration Committee, said, "I think everyone will agree that the District Court rooms look magnificent. The restoration work is top quality and the rooms look just as they would have done when they were originally completed 130 years ago.
"Inverclyde plays host to thousands of tourists every year and I'm sure they will becoming a significant attraction in their own right."
The District Court is located within the Italianate style, four storey A listed, Municipal Buildings, ornately decorated with classical details outside and lavish decoration inside.
The walls are part panelled with similar panelling on the bench, raked seating and witness box. There are ornate pilasters (fake columns) and cornicing which extends into the soaring central cupola. Over the bench there is a large decorative painted Victorian glass window featuring a ship and the town's motto "God Speed Greenock"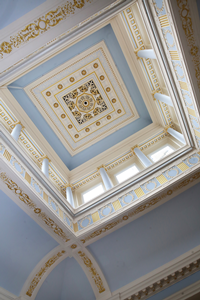 The court was last used in December 2007 for minor offences such as: road traffic offences, breach of the peace, drunk and incapable and minor assaults. Offenders could receive a maximum of 60 days imprisonment and a maximum fine of £2,500. More serious offences would be brought before the sheriff court.
The restoration work included:
Conserving the decorative glass in the central window
Re-polishing and re-lacquering of the wood panelling
Restoring the lime plaster and decorative cornices and pilasters (fake pillars)
Repairing the windows
Replacing the radiators and pipework
Improving the lighting
Rewiring
Installing a glass safety balustrade to the Gallery
New carpets.