'Steady progress' on Clune Park regeneration
Inverclyde Council is making 'steady progress' towards its goal of regenerating the rundown Clune Park estate in Port Glasgow.
So far the council has managed to buy up 165 of the 430 flats on the eyesore estate and Closing Orders have been served on 90 more. A Closing Order means that the property can no longer be used as living accommodation.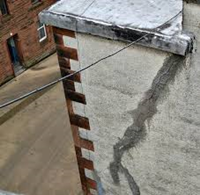 Councillor Michael McCormick, Convener of Inverclyde Council's Environment & Regeneration Committee, said, "In the council's opinion all of the flats on the estate are Below the Tolerable Standard (BTS) – they don't meet the basic requirements to be classed as fit for people to live in. And the results of several, recent, independent surveys have done nothing to change this view."
Many of the flats are riddled with dry rot and their floors either won't bear a person's weight or have collapsed already. Many of the blocks have also developed serious structural issues which may lead to masonry falling from the buildings or their partial or total collapse. The majority of properties in the regeneration area are in a very poor state of repair, lack basic facilities and are sub-standard.
There are only around 20 residents on the whole estate, with some buildings being totally empty. The buildings are increasingly being targeted by arsonists and vandals, with 14 deliberate fires being started in the past eight months. Holes have also been smashed in the walls between flats as criminals move through the buildings searching for metal to steal.
Councillor McCormick said, "The poor physical and social conditions in the area, combined with the level of input required from Police Scotland, Scottish Fire & Rescue and Inverclyde Council, clearly shows that the private housing market has failed and that large-scale, planned intervention is urgently needed.
"Six buildings now have active Demolition Orders against them. The council is working towards demolishing all the buildings and clearing the site to allow this neglected part of Port Glasgow to be regenerated.
"A decade ago it was estimated that it would cost £36.5million to refurbish these buildings. They have deteriorated even more since then. We are making steady progress in terms of acquiring these undesirable properties. But the remaining owners need to recognise that the only future for these homes is demolition and, frankly, the sooner the better."