Summer Reading Challenge blasts off on Sat 15 June
Inverclyde's space themed Summer Reading Challenge blasts off at 10am on Saturday 15 June at Greenock Central Library. Author and publisher, Keith Charters will be on the launch pad providing his own brand of 'stand-up literature' – part stand-up comedy, part literature.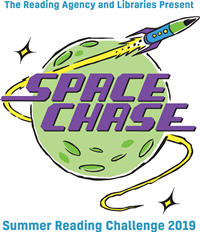 Keith Charters is the author of the Lee's Adventures series of children's books and runs Strident Publishing Ltd. He'll be talking about all things space and writing related between 10am and 11am.
The Summer Reading Challenge Scotland is the UK's biggest annual reading activity. It's mainly aimed at children aged from four to 11 years old, although all children can take part.
The aim of the Challenge is for children to read six books over the summer holidays. The books can be anything they want from factual books to joke books. They can even be audiobooks or ebooks.
Children need to have their own library membership to take part. They can sign up for the Challenge at any local library. Everyone who takes part receives stickers, bookmarks, medals and cool toys.
All the children who complete the Challenge are invited to an awards ceremony in September where they are presented with a gold medal to mark their achievement.
Councillor Jim Clocherty, Convener of Inverclyde Council's Education & Communities Committee, said, "Reading is one of those activities which helps a child, 'To boldly go where no-one has gone before.' A book can take you to another continent, another planet even another galaxy - far, far away!
"Libraries are places of wonder that feed the imagination. This event helps children discover the joy of reading and the sheer diversity of the books available."