Colonel Peter McCarthy appointed as new Lord-Lieutenant
Wednesday 20 March 2019
The Queen has appointed Colonel Peter Thomas McCarthy as the new Lord-Lieutenant of Renfrewshire, a position which covers Inverclyde, East Renfrewshire and Renfrewshire.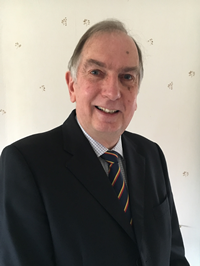 The 65-year-old takes on the role following the retirement of his predecessor, Guy Clark.
Colonel McCarthy became a Deputy Lieutenant for Renfrewshire in 2011 and was promoted to Vice Lord-Lieutenant in 2016. He has been married to Jean (née Drummond) for 37 years. Jean is from a Greenock family of long-standing. The couple have three sons.
As Lord-Lieutenant, Colonel McCarthy's role is to uphold the dignity of the Crown. He is responsible for arrangements for royal visits to the area, and acts as the Queen's representative when required.
Colonel McCarthy said, "It is an absolute honour to take on the role of Lord-Lieutenant of Renfrewshire. I wish to pay tribute to my predecessor, Guy Clark, who has carried out his duties with such distinction over the past 12 years. I very much look forward to meeting the wide and varied groups and residents from across the whole area as I attend events and ceremonies in the months and years ahead."
Colonel McCarthy was educated at Purley based all-boys Roman Catholic school, John Fisher School, and Welbeck College. After finishing his studies, he was commissioned into the Royal Electrical & Mechanical Engineers (REME) in 1973. He completed a 30 year military career, which included service in Germany and Northern Ireland, attaining the rank of Colonel.
After leaving the Army in 2004, he became Operations Director with the British Red Cross in Glasgow. He managed a large team which delivered services in West Central and South West Scotland for several years before taking on a part-time role in 2011 to support operations in the UK and abroad, before retiring in 2015.
Colonel McCarthy was elected to the Master Court of the Incorporation of Hammermen of Glasgow in 2010, and became Deacon in 2015. In this capacity, he has also served as a trustee of the Trades House of Glasgow, where he chairs an external consultative group which provides advice on the Trades House support programme for children in kinship care.
Colonel McCarthy actively supports local veterans and is the Vice President of the Royal Electrical & Mechanical Engineers Association in Scotland, as well as being Patron of a local Army Cadet detachment.
Page last updated: 20 March 2019